There is no higher priority to our entire Unicell family than the safety of our customers and employees. Like many others, we are adhering closely to the guidelines from our Government health authorities. As a result, we have made the decision to close all Unicell Body Company facilities effective Friday, March 20th, 2020 with the hopes to reopen as soon as we are able to.
OUR OUTSIDE SALES TEAM AND INTERNAL SUPPORT WILL CONTINUE TO BE AVAILABLE DURING THIS TIME.
PLEASE FIND BELOW A LIST OF IMPORTANT CONTACTS THAT CAN HELP ASSIST YOU.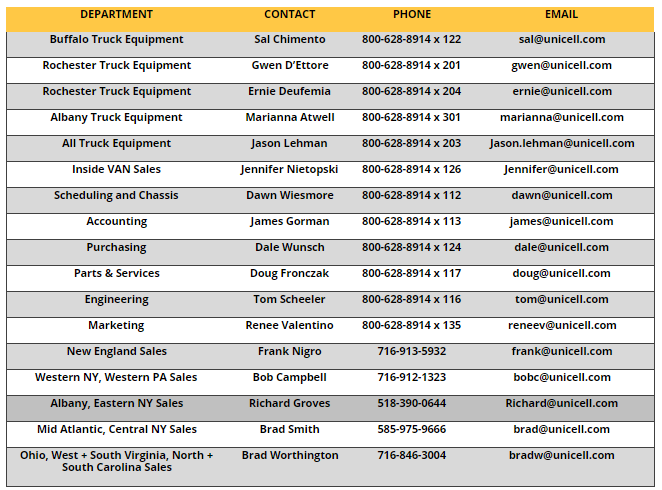 Unicell Limited (Canada)
March 24, 2020
Dear Valued Customer,
We are in a once in a lifetime pandemic that has put a challenge to the entire community.  While we value each of our customers, we also have a responsibility to our employees and their families to do our best to keep them safe.
On Monday March 23, 2020, the Ontario Government issued an order for all non-essential businesses in Ontario to close their doors, ceasing all in-person operations for 14 days, with the possibility that the order may be extended as the situation evolves. As a result, effective Wednesday, March 25, 2020, Unicell Ltd will be temporarily closing its operations.
Thank you for your understanding as we do our best to navigate these uncharted waters.  While Unicell's manufacturing operations are currently shut down to do our part in slowing down the spread of COVID-19, we remain available to serve those in essential services.  If you're in an essential service and need assistance, we ask that you reach out to the sales person in your territory, our inside sales or our Parts and Service Manager.