Classicube: The Original Cube
"The people at your company have been so pleasant to deal with. Every time I call, no matter who I speak with, they are so helpful and so cheerful. This is the first time I've ordered from Unicell and I will order from you in the future."
Traditionally styled for maximum cubic capacity, function, and all-around-town drivability, Unicell's ClassiCube is the original in our line of one piece molded fiberglass truck bodies. Thousands of this model have gone to work all over North America.
Available on Ford, Chevrolet, and GMC cutaway vans in lengths from 10′ to 17′ and heights to suit a variety of applications. And all Unicell bodies are backed by a five year limited warranty.

Ram Promaster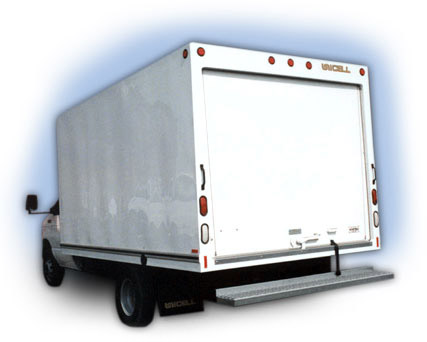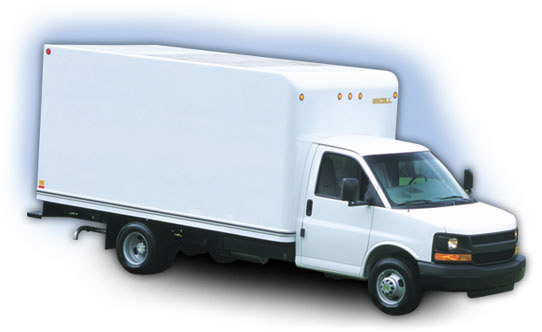 Standard Equipment List
Bulkhead
Solid bulkhead wall
6" Set Back on Ford chassis
Exterior
Fiberglass Construction
Gel Coat Surface
Steel Sill Protection
Anodized Aluminum Rub Rail
HD steel understructure
Protective undercoating
Rear grab handles
Tail Lights
Interior
3/8″ Plywood Lining on walls
Hoop Posts
Weatherproof wiring system
Dome light with cab switch
Rear timer switch
Leak-proof integral skylight
Optional Equipment List
Bulkhead
Sliding door for access between cab and body
Full Cut Out
Bumper
Flip-out Step
Rubber Dock Bumper
Cargo Control
D-Rings
E-Track & Straps
F-Track and Poles
Tie Bar
Cargo Handling
Sliding walkramps
Power liftgates
Doors
Aluminum-Clad Roll Up
Narrow Roll-Up
Full Width Swing-Out
Narrow Double Swing-Out
Narrow Single Swing-Out
Access Doors
Inset Steps
Door Hardware
Automotive Hardware
Inside Release Handle
Stainless Steel Hinges
Floors
Hardwood
Tread plate Overlay
Non-Skid Fiberglass
Wheel Boxes
Trailer Towing
Trailer Plug
Trailer Hitch
Ladder Storage
Roof Mounted Ladder racks
Linings
Three full length rows of cargo-controlling slats
Plywood/Slats/Plywood
Plywood lining
Fiberglass Lining
Height
Custom heights and lengths
Vents
Manual Roof Vent
Louvered Wall Vents
Windows
Fixed pane Window
Sliding window with screen
Unicell Body Company does not offer bodies that are tested/certified to transport people in the cargo area of the body.  Our bodies are strictly for cargo transportation, and are not intended to have people in the rear when the vehicle is in motion.  If a Unicell employee is made aware that someone has the intent of having a body manufactured for this type of use, or purchases a used unit that they want to convert, Unicell will have to decline further support.