Aerocell
"Our drivers argue over who gets to drive the Aerocells. The Aerocell units are quieter and hold the road better. We also like what the Aerocells will do for our image and our bottom line. Our tests show we save 28% on fuel compared to a conventional body on the same chassis."
Save money in fuel costs with the Aerocell van body. Designed with 3D CAD software, the Aerocell continues and enhances the lines of the Ford or GM cutaway van, creating a sleek look that allows smooth, quiet air flow. The result is substantial fuel savings… up to 20% better than conventional truck bodies have been reported by customers. That can mean thousands of dollars saved over the life of your truck! And all Unicell bodies are backed by a five year limited warranty.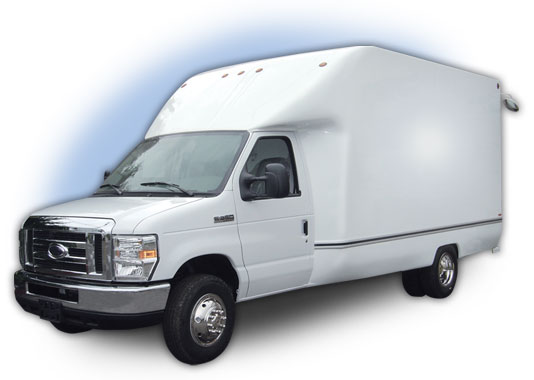 Aerocell – Ford Dimensions
Body Lengths
Inside Height
Width
Wheelbase
Outside
80"
Flat Floor
85"
Wheelboxes
87"
E350/E450
158"
176"
12'
11'1"
X
X
X
14'
13'1"
X
X
X
15'
14'1"
X
X
X
X
16'
15'1"
X
X
X
17'
16'1"
X
X
X
Body Lengths
Inside Height
Width
Wheelbase
Outside
Inside
79"
Flat Floor
85"
Wheelboxes
96"
Outside
91"
Inside
G350
E450
159"
177"
159"
177"
12'
11'1"
X
X
X
X
X
X
14'
13'1"
X
X
X
X
X
X
15'
14'1"
X
X
X
X
X
X
X
X
16'
15'1"
X
X
X
X
X
X
17'
16'1"
X
X
X
X
X
X
Standard Equipment List
Aerodynamics
Built-in air deflector with storage
Curved, aerodynamically designed lower side skirts
Bumper
Galvanized Steel Grip-Strut
Exterior
Fiberglass Construction
Gel Coat Surface
Fiberglass Rear Frame
Steel Sill Protection
Anodized Aluminum Rub Rail
HD steel understructure
Protective undercoating
Rear grab handles
Tail Lights
Interior
3/8″ Plywood Lining on walls
Hoop Posts
Weatherproof wiring system
LED light
Rear timer switch
Leak-proof integral skylight
Optional Equipment List
Bulkhead
Sliding door for access between cab and body
Full Cut Out
Cargo Control
D-Rings
E-Track & Straps
F-Track and Poles
Tie Bar
Cargo Handling
Sliding walkramps
Power liftgates
Doors
Aluminum-Clad Roll Up
Narrow Roll-Up
Full Width Swing-Out
Narrow Double Swing-Out
Single Panel Doors
Inset Steps
Door Hardware
Automotive Hardware
Inside Release Handle
Stainless Steel Hinges
Floors
Hardwood
Tread plate Overlay
Non-Skid Fiberglass
Wheel Boxes
Lights
LED ceiling lights
3-Way Switch
Linings
Plywood/Slats/Plywood
Plywood lining
Fiberglass Lining
Trailer Towing
Trailer Plug
Trailer Hitch
Vents
Manual Roof Vent
Louvered Wall Vents
Walk Through
Walk-through cab roof for "step-van" head room
Windows
Fixed pane Window
Sliding window with screen
Unicell Body Company does not offer bodies that are tested/certified to transport people in the cargo area of the body.  Our bodies are strictly for cargo transportation, and are not intended to have people in the rear when the vehicle is in motion.  If a Unicell employee is made aware that someone has the intent of having a body manufactured for this type of use, or purchases a used unit that they want to convert, Unicell will have to decline further support.